Make a wish, I'm at your command
PLH Keyboard is the new line of switch plates that replaces the classic push buttons with those of the most popular and widespread interface: the computer keyboard, with the idea of interacting and controlling the lights in your home.
The Keyboard switches are a playful, yet elegant combination and give a new, more dynamic, intuitive and original look to the switch plates on the wall.
From the solid of the material, 10mm of pure matter
Each switch plate is made of an aluminum plate, that is, from the full, and is obtained by single mechanical machining through CNC machines. Subsequently the unibody is micro-coated with anodized glass in natural color aluminum. Square-shaped, has a thickness of 10 mm and dimensions 81.0 x 81.0 mm.
Black or White
4, 2 and 1 combinations for the normally open pushbuttons for low voltage systems, which are available in anodized black or white painted versions, with laser engraved logos and letters always on an aluminum base.
The switch plates of the Keyboard collection are installed on standard round or square boxes.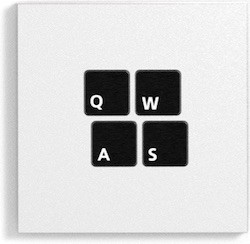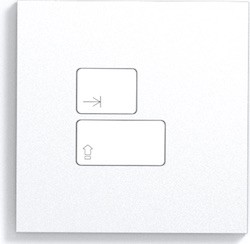 Keyboard frame: fits all standards
The Keyboard frame, also produced from the solid of an aluminum plate, micro-sandblasted with glass spheres and anodized in natural aluminum color.
Is 10 mm thick and measures 81,0 x 81,0 mm and is compatible with the BTicino LivingLight junction boxes and the standard 55mm German series.