Neo, the new trendy light switches, is the essential: a point of pure balance
NEO wants to be exactly what it is: a button, essential. First of all, we removed the useless, the switch plate that hides the recessed box, to leave just what it needs to give you trendy light switches. An elegant but discrete point on the wall, circular (in versions 16 and 29 mm – N.16.1, N.29.1) or hexagonal (N.Hex).
As a result, the NEO collection, which received the reports of Adi Index 2013 and the Iconic Award 2016: Interior Innovation, is characterized by the single-button (normally open) type wall N.29.1, N.16.1 or N.Hex for systems in low voltage; from the cable lug that 'transfers' the plug socket away from the N.P wall and completed by the N.S frame compatible with the Berker R-Classic inserts.
Neo Hex, in particular, is a hexagonal material surface that incorporates in the elegant mosaic tiles, Copycat, designed by architect Cino Zucchi for De Castelli. A LED allows you to elegantly highlight the button on either the single wall or on the mosaic tiles.
Neo Hex can be supplied single, as part of the De Castelli surface or in a kit to create an original decoration on the wall.

NEO by day and by night
PLH Neo can be equipped with a special circular led (optional) in the warm white versions of Osram (2700 ° K); of other colors (on request) or bicolour (to indicate the change of status) all powered at a maximum voltage of 29V DC.
It is normally used to make the button visible in the dark, illuminating it as in a sun eclipse; but can also be used as a marking or path marking.
NEO is flush with the wall
PLH Neo remains fully adhering to the wall: it is its feature. The supply includes, on request, adaptors for standard boxes, which allow it to fit tightly to the walls thanks to special 'nozzles' suitable for lightweight walls, masonry walls and other types of materials.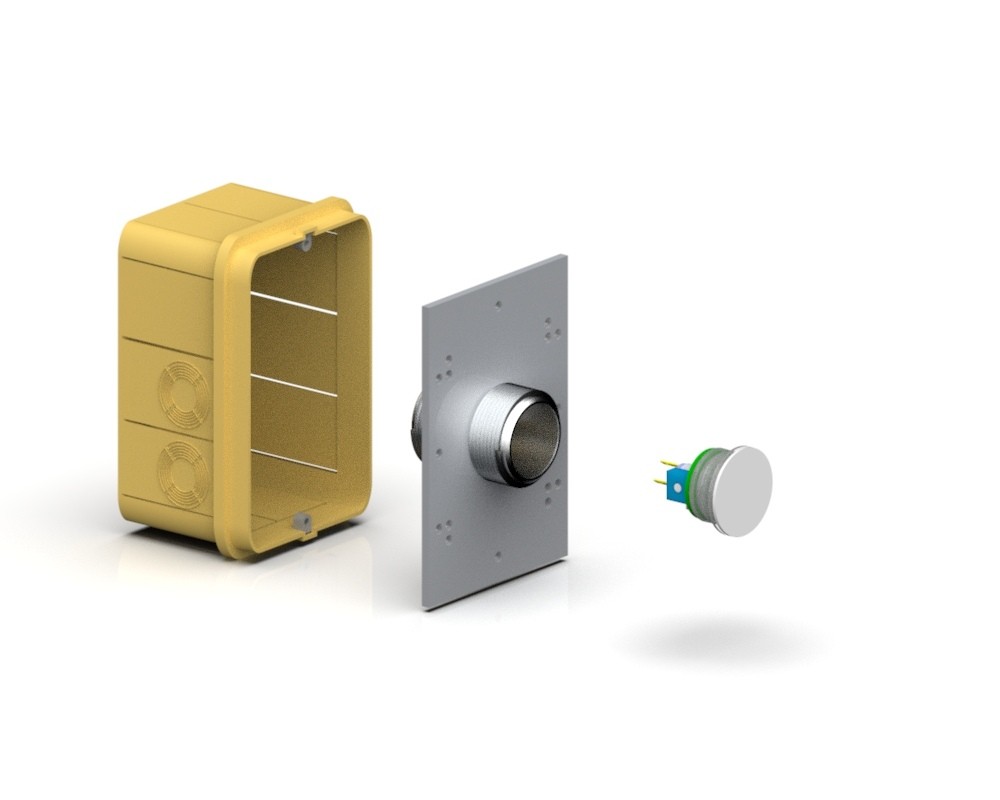 Many trendy light switches colors, so many customizations
PLH Neo is made directly from an aluminum, brass, copper or iron slab. Personalization is unlimited with all the processes for the Makeup and Slim collections, and enriched by optional laser or UV printing and drawing on the front of the button.
PLH Neo is available in trendy light switches 'classic' colors – in silver, midnight, stainless steel, chromed mirror – in 'shaded and brilliant' nuances – blue, orange, purple, red, yellow and green as well as new metallization and acidification directly on brass by De Castelli.
Neo Hex, is cast in De Castelli iron finishes, copper délabré, brass délabré.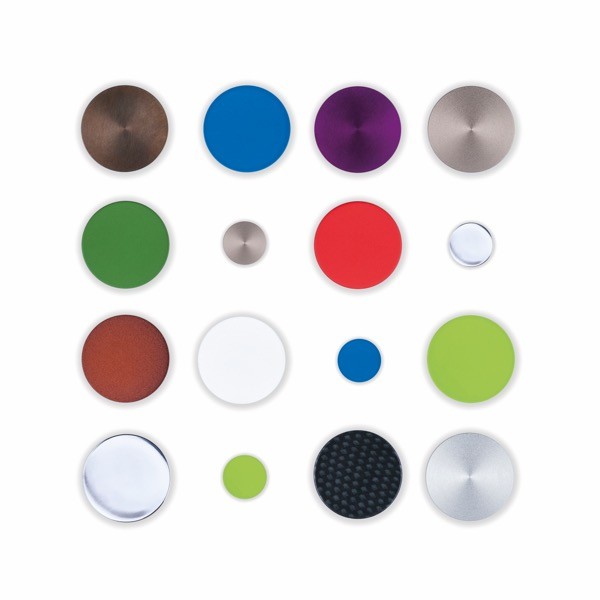 Even the sockets are round
Furthermore, PLH Neo includes frames for sockets with a diameter of 81 mm compatible with Berker R-Classic inserts (NS) such as: sockets, thermostats, USB connectors and audio / video voice / data plugs as well as the innovative cable gland ( N.P.) with the same diameter of 29 mm, which solves in an elegant way the problems of the wires outputs for the lighting fixtures, the controlled sockets or where every 'connection' can determine the loss of signal (speaker cables for example)