The new wireless products
PLH enters the home automotive world with a new product system: PLH Aria.
Home automation systems are now proposed, if properly designed, to solve 'simple' complex automation. But solutions with manual controls are often preferred, in contrast to touch panels and smartphones, to shorten the implementation times whether they turn on or turn off the light or control the roller shutters.
PLH considers the Apps just a tool to program automations and scenarios in general, but not to execute commands, except in special cases.
PLH Aria is designed precisely for this purpose: to ensure easy and friendly usability of complex systems, using ergonomically designed objects made in Italy, with noble and precious materials (control units) and wireless dialogue with light control and control modules (dimmer and relay)
Control up to 15 meters away.
Up to 5 years of use with a single battery.
traditional light sources or LED with PLH Aria dimmers.
Possibility to control traditional users and bus users through the PLH Aria Jellyfish interface.
Registered design controls, designed and manufactured entirely in Italy.
The app allows you to control the entire system with your tablet, smartphone or smartwatch.
All PLH Aria products are based on wireless radio frequency technology. Technology is resident in each single component, continuously synchronized and self-diagnosed using a distributed and symmetric architecture.
Devices connect and speak to each other only when it is necessary to determine a drastic reduction in the radio frequency in the field consumption. No internet connection and no gateway is required because it is the smartphone, or another device, to do so at first installation and in case of remote control.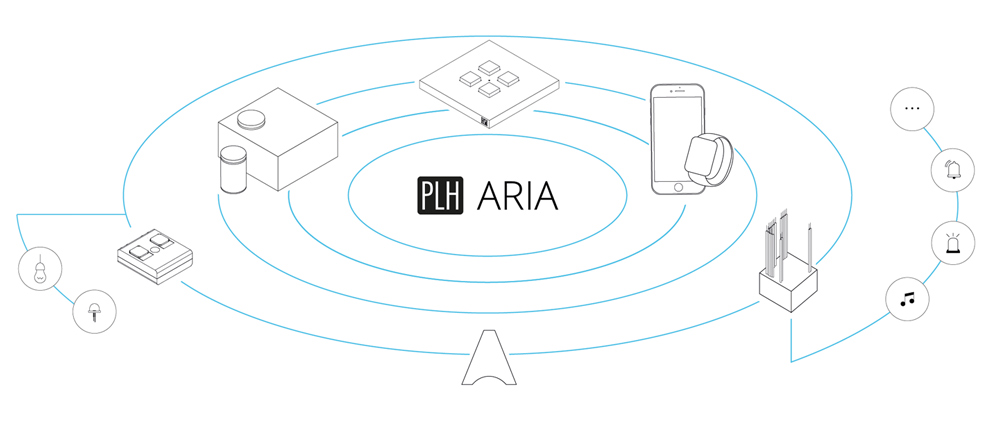 Real and non-virtual command 
with PLH Aria devices
PLH Aria's devices have an exclusive and registered design and allow control of PLH Aria interfaces through commands and gestures. The particular system opens new scenarios for controlling domestic and non-domestic users.
Physical contact with the PLH Aria product brings the user to a real and non-virtual dialogue with things.
Interfaces that serve the command
The PLH Aria system includes devices that allow wireless interfaces to control units for individual users whether they are luminaries or home automation systems.
Directly controlling traditional or led type luminaires through phase cut dimmers (PLH Dimmer)
Indirectly using a universal multi-voltage contact interface (PLH Aria Jellyfish).
Compatibility with all the systems 
A huge collection of lighting equipment is ready to receive commands and dialogue directly from PLH Aria products through the configuration from the specific app.